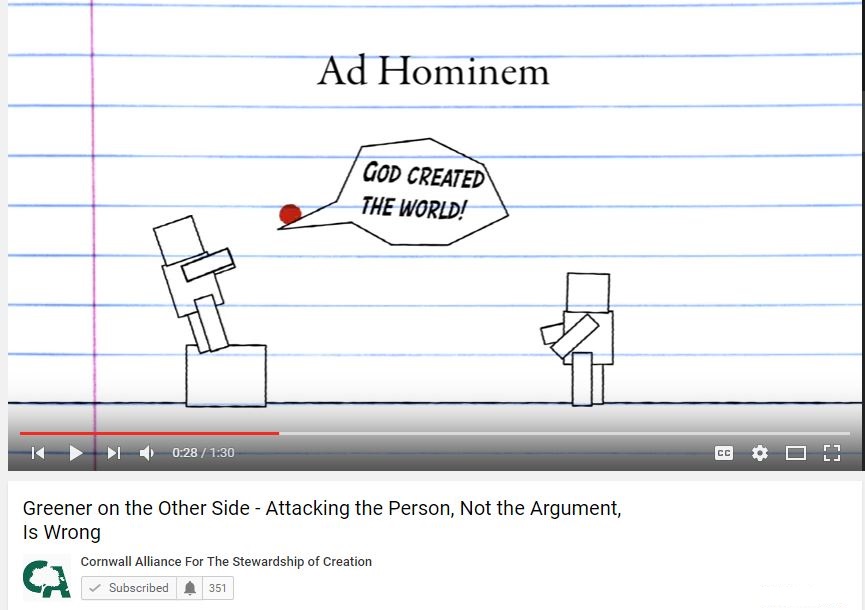 For years people like Al Gore, Robert Kennedy Jr., John Cook, and others have labeled those who question one or another aspect of the case for belief in dangerous human-induced climate change as "science deniers," "climate deniers," "environmental criminals," and worse. Such rhetoric is far from helpful not only because it demonizes, making respectful dialogue difficult if not impossible, but also because it leads inexorably to misrepresentation, and consequently misunderstanding, as people with many different views get lumped into a single camp.
Take heart. Candice Howarth and Amelia Sharman, writing in the Oxford Research Encyclopedia of Climate Science, document the counterproductive effects of such labeling and urge restoration of both civility and accuracy in climate debates. Here's their summary:
Labels play an important role in opinion formation, helping to actively construct perceptions and reality, and to place individuals into context with others. As a highly complex issue, climate change invites a range of different opinions and dialogues about its causes, impacts, and action required. Much work has been published in the academic literature aiming to categorize differences of opinion about climate change using labels. However, the debate about labels acts as a distraction to more fundamental and pressing issues of policy response. In addition, the undercurrent of incivility present in the climate change debate also contributes towards a hostile and unconstructive conflict.

This is an evolving area of academic enquiry. Recent work has examined how the different labels of climate change opinions are constructed, used in practice, and portrayed differently in the public and policy spheres. The growing number of categorization systems used in the climate debate are also argued to have implications for the science-policy interface, creating a polarized debate involving many different actors and interfaces.

Moving away from unhelpful use and construction of labels that lead to incivility would enable constructive and fruitful dialogue across this polarized debate. A way forward would be to explore further the role of underlying motivations and rationales as to why these different opinions about climate change come to exist in the first place. Focusing on potential overlaps in perceptions and rationales may encourage constructive discussion amongst actors previously engaged in purposefully antagonistic exchange on climate change.
The start of their main text communicates the anti-scientific nature of rhetorical labeling, which cuts off debate:
In 1942, the sociologist Robert K. Merton introduced an influential conceptualization of scientific norms. These informal rules included communalism–that scientists should all be able to access scientific knowledge; universalism–that all scientists should be able to contribute to the creation of that knowledge; and disinterestedness–that all scientists should act for the greater good, rather than personal gain. But most notably among these Mertonian norms, is the emphasized ideal of organized skepticism. By way of this norm, all scientific claims should be subject to "an ongoing process of questioning, hypothesizing, validation, and refutation" (Sarewitz, 2000, p. 84) before they may be accepted. Even once they are accepted, they must continue to be questioned should new evidence emerge. The positivist tradition of contemporary science is strongly based on the idea that skepticism is a fundamental basis of the scientific process. Importantly, it emphasizes that conflicting arguments should be based either on flaws in existing evidence or on the production of new, contrary evidence.

In the context of climate change, scientific debates may focus on overarching topics or specific physical relationships. Topics that have been debated include, for example, the relationship between sunspots and climate change (Huntingford & Fowler, 2008), the impact of clouds on climate feedback mechanisms (Baum, Haqq-Misra, & Karmosky, 2012), or whether or not specific weather events may be attributable to longer term climate change (Parmesan & Yohe, 2003).

Disagreement about climate change is not surprising. As Merton first articulated, debate and the continued questioning of all findings and conclusions are fundamental parts of the scientific process.
It's particularly gratifying to see them cite Merton, for the Cornwall Alliance did the same in one of our earliest major papers on climate change, in our response to the (bogus then, bogus now) claims that an overwhelming scientific consensus supported belief in dangerous manmade warming and that therefore everyone should agree and band together to fight the danger:
First, unlike politics, but like truth, science is not a matter of consensus but of data and valid arguments. Second, as Thomas Kuhn so famously pointed out in The Structure of Scientific Revolutions, great advances in science, often involving major paradigm shifts, occur when small minorities patiently—and often in the face of withering opposition—point out anomalies in the data and inadequacies in the reigning explanatory paradigms until their number and weight become so large as to require a wholesale paradigm shift, and what once was a minority view becomes a new majority view. Indeed, skepticism is essential to science: "Most institutions demand unqualified faith; but the institution of science makes skepticism a virtue." Third, the popular belief that there is such a consensus is dubious at best. …
Maybe, just maybe, we're moving into a new stage of the climate debates: civility. Wouldn't that be nice?