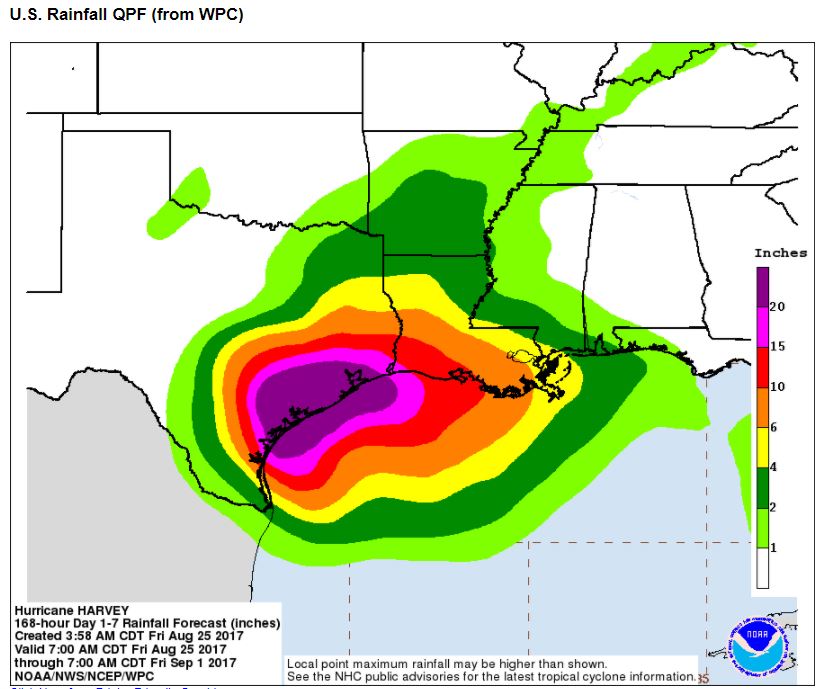 Please join with the Cornwall Alliance in praying for those in the path of Hurricane Harvey. The storm is likely to be life threatening and cause severe damage to property throughout eastern Texas and into Louisiana. The greater Houston area, with some 6.5 million people, is among the areas threatened. Its very low elevation makes severe flooding highly likely. Although the greatest threat will be along the coast, where winds will be highest before the storm begins to weaken over land, the threat will extend well inland and last for several days because the storm is moving slowly.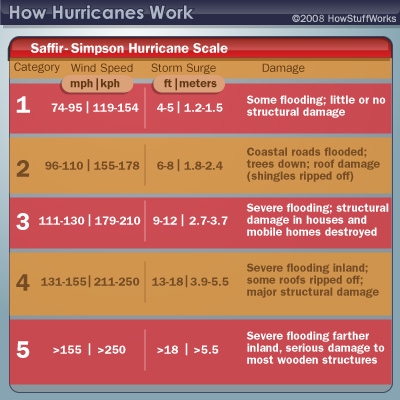 The National Hurricane Center reported at 4 a.m. Central Time Friday, "Harvey is moving toward the northwest near 9 mph (15 km/h), and this general motion is expected to continue during the next couple of days. On the forecast track, Harvey will make landfall on the middle Texas coast tonight or early Saturday. Harvey is then likely to meander near or just inland of the middle Texas coast through the weekend. Maximum sustained winds are near 105 mph (165 km/h) with higher gusts. Some strengthening is possible, and Harvey is expected to become a major hurricane [Category 3 or higher, winds 111 mph or higher] before it reaches the middle Texas coast. Hurricane-force winds [74 mph or higher] extend outward up to 25 miles (35 km) from the center and tropical-storm-force winds [39 to 73 mph] extend outward up to 140 miles (220 km)."
Although Harvey is likely to strengthen from a strong Category 2 early this morning to a Category 3 before it makes landfall, it is likely that flooding, from heavy rainfall all along the storm's path and from storm surge along the coastline, will cause greater damage than wind, particularly as the hurricane loses force once it goes over land.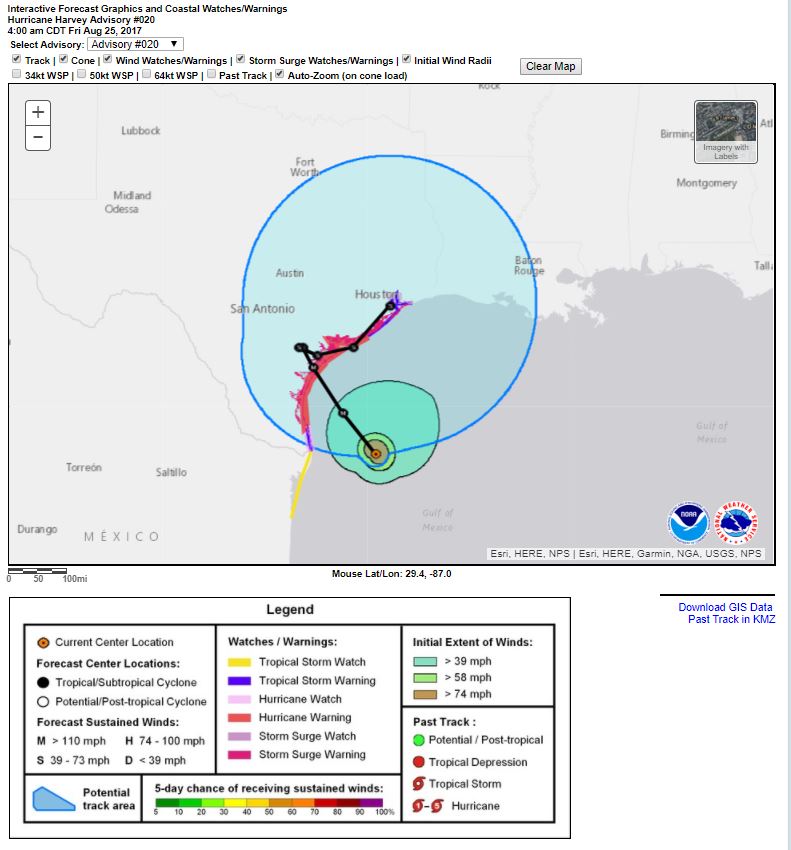 The NHC further warned:
RAINFALL: Harvey is expected to produce total rain accumulations of 15 to 25 inches and isolated maximum amounts of 35 inches over the middle and upper Texas coast through next Wednesday. During the same time period Harvey is expected to produce total rain accumulations of 7 to 15 inches in far south Texas and the Texas Hill Country eastward through central and southwest Louisiana, with accumulations of up to 7 inches extending into other parts of Texas and the lower Mississippi Valley. Rainfall from Harvey will cause devastating and life-threatening flooding.
STORM SURGE: The combination of a dangerous storm surge and the tide will cause normally dry areas near the coast to be flooded by rising waters moving inland from the shoreline. The water is expected to reach the following heights above ground if the peak surge occurs at the time of high tide …
N Entrance Padre Island Natl Seashore to Sargent…6 to 12 ft
Sargent to Jamaica Beach…5 to 8 ft
Port Mansfield to N Entrance Padre Island Natl Seashore…5 to 7 ft
Jamaica Beach to High Island…2 to 4 ft
Mouth of the Rio Grande to Port Mansfield…2 to 4 ft
High Island to Morgan City…1 to 3 ft
The deepest water will occur along the immediate coast near and to the northeast of the landfall location, where the surge will be accompanied by large and destructive waves. Surge-related flooding depends on the relative timing of the surge and the tidal cycle, and can vary greatly over short distances. …
WIND: Hurricane conditions are likely within the hurricane warning area late Friday and Friday night, with tropical storm conditions expected to first reach the coast in the hurricane warning area later this morning. These conditions are likely to persist into Saturday in portions of the hurricane and tropical storm warning area.
SURF: Swells generated by Harvey will begin to affect the Texas, Louisiana, and northeast Mexico coasts later this morning.These swells are likely to cause life-threatening surf and rip current conditions. …
TORNADOES: Isolated tornadoes are possible across portions of the middle and upper Texas coast on Friday.