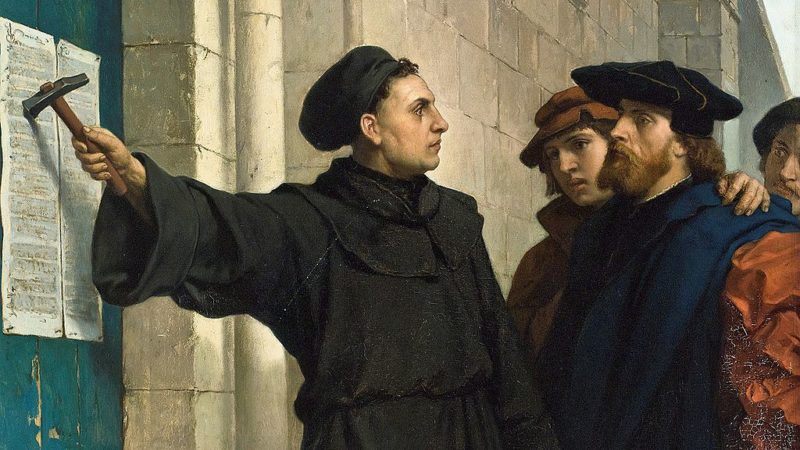 My leading the Cornwall Alliance entails a great deal of reading, all the time, on economic and, especially, environmental issues—from three or four to ten or twenty articles a day, and multiple books every year. But as a former professor of church history and social ethics who also taught systematic theology, reasons for Christian faith, and political theory, and as a church member committed to ministering to the needs of my brothers and sisters in Christ, and simply as a Christian ambitious to take every thought captive to the obedience of Christ (2 Corinthians 10:5), I'm always reading in those fields as well.
2017 marks the 500th anniversary of what is traditionally considered the start of the Reformation by Martin Luther's nailing his "95 theses" to the cathedral door in Wittenberg. Being very much committed to Reformation theology and its continuation today, I had particular interest in that subject this year. That and the interests of some personal acquaintances prompted my reading a fair amount (pro and con) on both historic and contemporary Roman Catholicism and Protestantism. One brief word (literally!) to my many Roman Catholic friends who might hope, on reading the list, that I might soon "cross the Tiber," and to my many Protestant friends who might be prompted by the same to fear it: No.
In 2017 I read—in addition to thousands of articles—all or major parts of at least 64 books. I never can keep track of them all. Someday I should take Megan (Toombs) Kinard's advice and keep a running list, but then I'd forget to update it regularly! Here are a few of my favorites from the year, after which I'll list others in no particular order.
Environment, Economy, and Science
The Reformation, Its Continuance, and Christian Faith and Life
Though I'd read Nicholas Needham's 2,000 Years of Christ's Power, vol. 3, Renaissance and Reformation several years ago, I re-read it when asked to teach a six-week introduction to Reformation history at my church. It was an invaluable help. Needham's 4-volume 2,000 Years of Christ's Power is one of the finest multi-volume church histories I've read, ably combining broad narrative, narrower biography, and selected readings from the periods covered. This volume is no exception. Useful to scholars and laymen alike, it is simultaneously entertaining, instructive, heart-warming, and challenging.
One of the more difficult challenges facing Christians of different theological traditions is truly understanding each other's positions rather than embracing—and condemning—caricatures. Gregg R. Allison's Roman Catholic Theology and Practice: An Evangelical Assessment. a study through the Catechism of the Catholic Church, admirably and respectfully explains the many and important areas of both agreement and disagreement between Roman Catholics and Protestants and the reasons for them. It would be difficult indeed to imagine a book to recommend more highly for its purpose.
Jerry Bridges, an elder in the first church my wife and I attended after we were wed, and one of our time's foremost evangelical Reformed devotional writers, makes what at first thought seems a frightful subject warm and attractive in The Joy of Fearing God. If the fear of the Lord is the beginning of wisdom and knowledge, anyone who wants those had better want it, too. My dear departed friend's book is a great roadmap to discovering it.
Now for unannotated lists, by broad category:
Environment, Economy, and Science
Christian History, Doctrine, Faith, and Life
Kenneth J. Collins and Jerry Walls, Roman but Not Catholic: What Remains at Stake 500 Years after the Reformation
Nicholas Needham, 2,000 Years of Christ's Power, vol. 3, Renaissance and Reformation
Gregg R. Allison, Roman Catholic Theology and Practice: An Evangelical Assessment
David Currie, Born Fundamentalist Born Again Catholic
Ken Guindon, History Is Not Enough!
Jacques Le Goff, The Birth of Purgatory
Jerry Bridges, The Joy of Fearing God
Edward J. Young, The Book of Isaiah, 3 vols.
John Calvin, Commentary on the Book of the Prophet Isaiah, volumes VII & VIII of Calvin's Commentaries, 22-volume set
James Ussher, Annals of the World: James Ussher's Classic Survey of Ancient World History
Bryan Chappell, Unlimited Grace: The Heart Chemistry that Frees from Sin and Fuels the Christian Life
Thomas C. Oden, The Justification Reader
Rodney Stark, God's Battalions: The Case for the Crusades
Martin Luther, Commentary on the Epistle to the Galatians
Dallas Willard, The Divine Conspiracy: Rediscovering Our Hidden Life in God
Jerry Newcombe, The Book that Made America: How the Bible Formed Our Nation
David Kullberg, Breaking Babel: What Was Hidden Is Now Revealed
Rosaria Champagne Butterfield, The Secret Thoughts of an Unlikely Convert: An English Professor's Journey into the Christian Faith, expanded edition
Ronald W. Kirk, Thy Will Be Done: When All Nations Call God Blessed
James D. Agresti, Rational Conclusions
Brian H. Edwards, God's Outlaw: The Story of William Tyndale and the English Bible
Martin Greschat, Martin Bucer: A Reformer and His Times
Roland H. Bainton, Here I Stand: A Life of Martin Luther
Robert L. Reymond, John Calvin: His Life & Influence
Politics and—Well—Other Stuff