A friend of the Cornwall Alliance recently wrote, "I have been seeing things online about Greenland wildfires of peat being caused by global warming and I was wondering if you all have any resources that address this."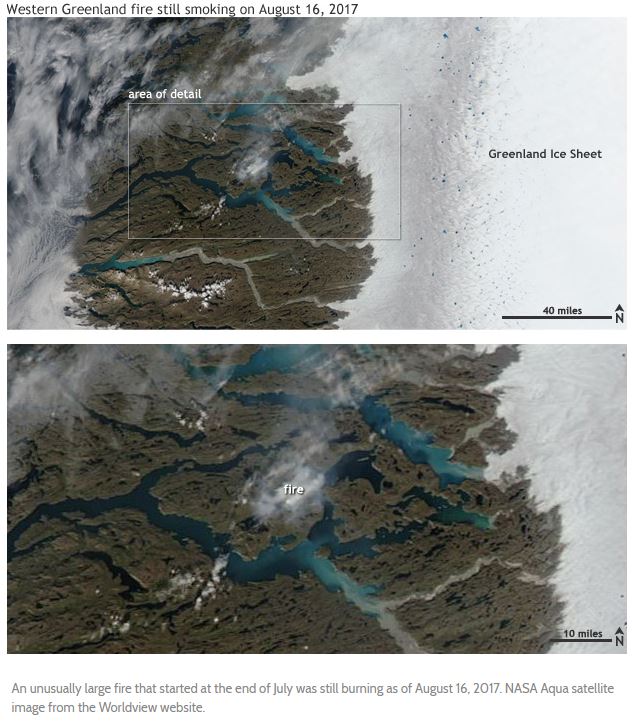 A fairly up-to-date article about the Greenland peat fires points out that humans probably caused the fires (perhaps through carelessness) in vegetation that was parched from lower-than-usual rainfall. Although monthly average temperature in the location is up by about 0.8 degree Celsius over the 1961–1990 mean, the article says
… scientists are hesitant to say climate change has contributed to the Greenland fire. Researchers need more data on what the area usually looks like at this time of year.

"If you want to know if it's exceptional, you have to have a better record of the past, and we need to have a better idea of the conditions in the field to see if it was the result of changing vegetation over there," Lhermitte said. "It's a bit early to frame it as climate change. I think it's a very good question — it's just a bit early to draw this conclusion."
That is putting the hesitation a little mildly.
An increase in monthly average temperature there from 6.3 to 7.1 degrees Celsius (42.98 to 44.78 degrees Fahrenheit), as reported in the article, certainly isn't going to cause any fires, and neither is even the reduced rainfall reported for June and July. You need ignition to start a fire. Depending on its composition, peat's ignition (combustion) temperature varies from about 300 to 350 degrees Celsius (572 to 662 degrees Fahrenheit). Ignition would require lightning or some human activity (e.g., arson or carelessness with a campfire).
I feel a little sorry for Stef Lhermitte, the Dutch the scientist whom the journalist must have asked whether reduced vegetation or climate change (or the former as a consequence of the latter) could have contributed to the fire's occurrence. He probably didn't want to embarrass the journalist, so he politely said, "It's a bit early to frame it as climate change. I think it's a very good question — it's just a bit early to draw this conclusion."
Right. The fact is that ignition was either by lightning (which isn't an aspect of climate change) or some intentional or accidental human act, and climate change (as distinct from weather—rainfall amounts rise and fall month to month and year to year) had nothing to do with causing the fire.
The more plausible notion discussed in that and other articles is that smoke from the peat fires (and, by the way, peat has been used as a fuel for hearth fires for centuries—it was, in addition to wood from trees, the standard fuel for much of Scotland before coal and continues in use there), by darkening the surface of Greenland's ice sheet, could accelerate ice melt, which could accelerate sea-level rise. That's solid theory, but the crucial question on things like that is "How much?"
Granted the proportions involved, the answer is "Almost certainly too little to measure or to have any significant effect on global, regional, or local ecosystems or human well being." Why?
The wildfires were, as of mid-August, about 2 square miles in size. Greenland's ice sheet is 660,220 square miles. Its average thickness is 6,600 to 9,800 feet, and it's roughly 10,500 feet thick at its thickest point. Clearly the smoke from the fires won't have as much mass and density as the burning peat from which it comes, but even if we assumed that it would result in total blackening of a portion of ice sheet equal in size to the area burning, that would be 0.00003% of the ice sheet's surface—and even that wouldn't cause total melt of all the thousands of feet of ice beneath it, let alone any melt at all of the remaining 99.99997% of the ice sheet. That would have no significant impact on global sea level.
Would the diminished albedo (reflectivity) of the ice on which the soot fell be enough to raise global temperature? Again, certainly not significantly.
Assume for a moment that the smoke settles on an area of ice 1,000 times the size of the fires, i.e., 2,000 square miles. That's 3 tenths of 1 percent of Greenland's area. The world's other major ice sheet is on Antarctica and measures 5.4 million square miles.
So the 2,000 square miles on which the smoke would settle would make up 3 hundredths of 1 percent of global ice sheet. Its albedo would be reduced but not eliminated, and with the fall of new snow, which would then turn to ice, it would be restored within a few months. Total impact on global albedo and its consequence for long-term global average temperature? Essentially nothing.
Tom Di Liberto's "Wildfire still burning in Greenland tundra in mid-August 2017" gives more technical details, but the bottom line is that common sense and a sense of proportion are enough to defuse the idea that global warming caused the fires, or that the fires will exacerbate global warming.