For Immediate Release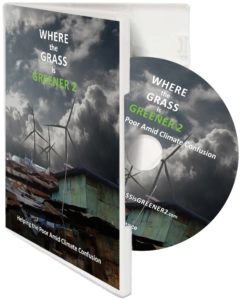 Burke, VA, October 10, 2017—Today the Cornwall Alliance for the Stewardship of Creation released Where the Grass is Greener 2: Helping the Poor amid Climate Confusion. This powerful new documentary picks up where a previous one, Where the Grass is Greener: Biblical Stewardship vs. Climate Alarmism, left off.
Using the testimony of some thirty scholars—climate scientists, other scientists, energy engineers, economists, political scientists, theologians, philosophers, and more—the Cornwall Alliance explains exactly why trying to substitute "renewables" for fossil fuels will cause enormous harm, especially to the world's poor, while achieving nothing of value for the world's climate.
"Using fossil fuels not only gives us the abundant, affordable, reliable energy indispensable to lifting and keeping whole societies out of poverty but also causes plants—including food crops—to grow better all over the world," said Cornwall Alliance Founder and National Spokesman Dr. E. Calvin Beisner. "Literally thousands of studies have confirmed that. This video explains it clearly."
"Increasing numbers of empirical studies show that restricting fossil fuel use, though, will have little to no effect on global temperature, but will raise the cost of energy and everything produced with it, harming the world's poor," Beisner added.
Experts featured in Where the Grass is Greener 2 include climate scientists like Dr. Timothy F. Ball, Dr. S. Fred Singer, Dr. Roy W. Spencer, and Dr. David R. Legates; physicists and engineers like Dr. Harold H. Doiron, Dr. William Happer, Dr. Thomas P. Sheahen, Dr. James S. Rust, and former astronaut Walter Cunningham; economists and environmental policy experts like Hon. Becky Norton Dunlop, Dr. Steven Hayward, Dr. G. Cornelis van Kooten, and James Taylor, Esq.; and religious leaders like Dr. Charmaine Yoest, Dr. Beisner, Bishop Harry Jackson, Dr. Vishal Mangalwadi, and many more.
"Christians worried about the effects of climate change on the poor need to watch this film" said Dr. Roy W. Spencer, Principal Research Scientist in Climatology at the University of Alabama and award-winning NASA scientist. Dr. Spencer is also a Cornwall Alliance Senior Fellow.
National Association of Scholars President Dr. Peter Wood called Where the Grass is Greener 2
"a superbly produced and morally compelling explanation of how climate hysteria ends up punishing the global poor."
"People in America and all over the world need to understand why drastic efforts to reduce global warming—like the Paris climate agreement—will do so much harm and so little good," said Dr. Beisner. "The prophets of climate doom have dominated the news for decades. It's time for a well-informed, positive message of hope and compassion to take over. We can make the world a better place!"
More information can be found at WhereTheGrassIsGreener2.com.
# # # # #
Media contact: Megan Toombs, Director of Communications, Megan@CornwallAlliance.org, 703-569-4653