By now everybody knows that the national academies of science of the world's top countries, and various professional scientific associations, and in short all people with brains firmly believe that human emissions of carbon dioxide have been the primary driver of global warming/climate change for the past half century.
But what most people don't know is that those organizations' official positions on the matter rarely reflect the considered opinions of their members. They tend to be adopted by the small cadre of ideological activists who run the organizations—an activity to which less ideological minds, not to eager to tell everybody else what to do, don't tend to be so attracted.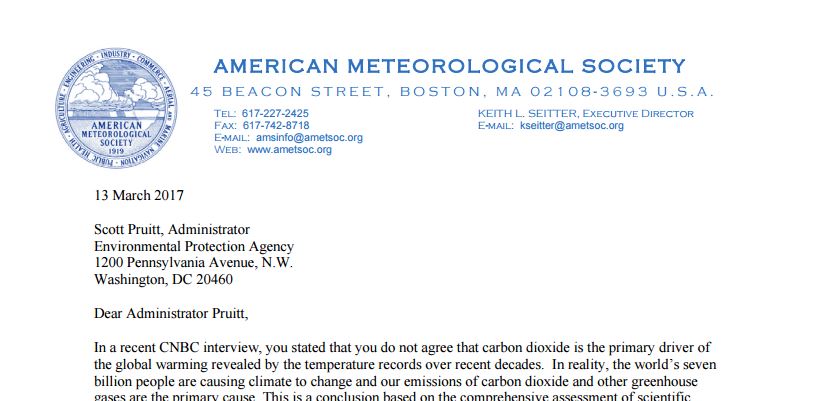 Case in point: Today Keith Seitter, Executive Director of the American Meteorological Society (AMS), sent new federal Environmental Protection Agency (EPA) Administrator Scott Pruitt a letter, on AMS letterhead, rather patronizingly informing him that, contrary to Pruitt's opinion, CO2 really is the primary driver of global warming. Seitter wrote:
In reality, the world's seven billion people are causing climate to change and our emissions of carbon dioxide and other greenhouse gases are the primary cause. This is a conclusion based on the comprehensive assessment of scientific evidence. It is based on multiple independent lines of evidence that have been affirmed by thousands of independent scientists and numerous scientific institutions around the world. We are not familiar with any scientific institution with relevant subject matter expertise that has reached a different conclusion. …

We understand and accept that individuals and institutions both public and private can reach differing conclusions on the decisions and actions to be taken in the face of this reality. That's the nature of the political process in a democratic society. But mischaracterizing the science is not the best starting point for a constructive dialogue. We hope that you will reconsider your stance on the science, and then help lead the nation and the world to consider, first, options for action, and then the course to be followed.

The American Meteorological Society and its members have been working on all aspects of this science going back a century. We stand ready to work with you or your staff to advance understanding the science of climate and use those advances for the benefit of the nation and the world.
Seitter  quoted the AMS's official position on climate change:
It is clear from extensive scientific evidence that the dominant cause of the rapid change in climate of the past half century is human-induced increases in the amount of atmospheric greenhouse gases, including carbon dioxide (CO2), chlorofluorocarbons, methane, and nitrous oxide. The most important of these over the long term is CO2, whose concentration in the atmosphere is rising principally as a result of fossil-fuel combustion and deforestation.
What Seitter didn't tell Pruitt is that he wasn't speaking for AMS members, who had not been polled as to whether they wanted to be represented this way.
One of them, Roger A. Pielke, Sr., Senior Research Scientist at the Cooperative Institute for Research in Environmental Sciences (CIRES), Senior Research Associate in the department of Atmospheric and Oceanic Sciences (ATOC) at the University of Colorado at Boulder, and Professor Emeritus Colorado State University, castigated Seitter in a letter of his own:
Keith

Quite frankly, you should be embarrassed by writing this letter.

https://www.ametsoc.org/ams/index.cfm/about-ams/ams-formal-letters-of-support/letter-to-epa-administrator-pruitt-on-climate-change/

It exposes very clearly that the professional society I used to be so
proud to be a member of has become just another political advocacy
organization.

I have copied to just a few of our colleagues who may not have seen
your letter. It is easy to refute what you have written, if you ever
cared to open your mind to the more robust scientific information that
is out there; e.g.

National Research Council, 2005: Radiative forcing of climate change:
Expanding the concept and addressing uncertainties. Committee on
Radiative Forcing Effects on Climate Change, Climate Research
Committee, Board on Atmospheric Sciences and Climate, Division on
Earth and Life Studies, The National Academies Press, Washington,
D.C., 208 pp.
http://www.nap.edu/openbook/0309095069/html/

Kabat, P., Claussen, M., Dirmeyer, P.A., J.H.C. Gash, L. Bravo de
Guenni, M. Meybeck, R.A. Pielke Sr., C.J. Vorosmarty, R.W.A. Hutjes,
and S. Lutkemeier, Editors, 2004: Vegetation, water, humans and the
climate: A new perspective on an interactive system.Springer, Berlin,
Global Change – The IGBP Series, 566 pp.
http://www.springer.com/us/book/9783642623738

You do not even provide an opportunity for AMS members to discuss and
vote on such a letter.
But Seitter knows how the game works. His letter to Pruitt will get all the mainstream media attention. Pielke's will get hardly any. The agenda will have been served, even if at the expense of the credibility of the AMS.