Climate-change hysteria is the primary rationale for switching from abundant, affordable, reliable energy from fossil fuels to diffuse, expensive, unreliable "renewable energy from wind, solar, geothermal, biofuels, etc. It's also a main driver of failure after failure, often wasting millions or even billions in taxpayer dollars. That's one of many reasons to cheer this report from Bloomberg:
President Donald Trump is set to sign a sweeping directive to dramatically shrink the role climate change plays in decisions across the government, ranging from appliance standards to pipeline approvals, according to a person familiar with the administration's plan…. It aims to reverse President Barack Obama's broad approach for addressing climate change…. Trump's order also will compel a reconsideration of the government's use of a metric known as the "social cost of carbon" that reflects the potential economic damage from climate change. It was used by the Obama administration to justify a suite of regulations. Tom Pyle, president of the American Energy Alliance, a conservative, fossil fuel-oriented advocacy group, welcomed Trump's comprehensive approach, calling it essential to undoing Obama-era climate policies that "permeated the entire administration."
Trump's order will lead to less government subsidy of bound-to-fail renewable energy projects. That should be good news to every taxpayer.
Practically everybody in America recognizes the name Solyndra—the red-hot solar energy startup that went bankrupt in 2011 after receiving $545 million in loan guarantees from the U.S. Department of Energy (DOE) and a high-profile televised booster visit from then-President Barack Obama.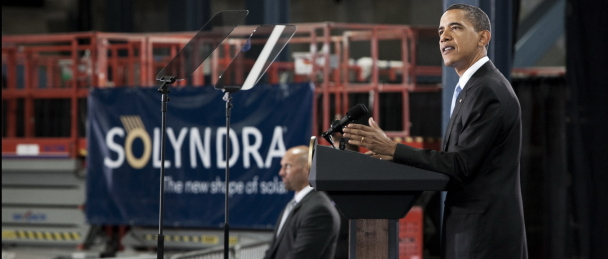 SunEdison's bankruptcy a year ago didn't make such big news, even though it was much bigger, involving $11.7 billion in debt after the giant energy company with extensive investments in wind and solar had received "$598 million in federal grants and $582 million in loans or loan guarantees." Neither did Spanish company Abengoa's bankruptcy about the same time, with $21.4 billion in debt after $2.6 billion in federal loans and guarantees and $986 million in federal grants and tax credits.
What a difference five years make—people are so accustomed to renewable energy companies' bankruptcies now that these two hardly mattered to the mainstream news media or the public.
Renewable energy bankruptcies were big enough news to become a major presidential election theme in 2012, with Republican candidate Mitt Romney hammering the Obama Administration for having sunk money into five firms that went bankrupt: A123 ($249 million from DOE); Abound Solar ($400 million from DOE); Beacon Power ($43 million from DOE); Ener1 ($118.5 million); and Solyndra, the five costing taxpayers a combined nearly $1.4 billion. At the time, Fisker Automotive, an electric car maker that had received $529 million in loan guarantees from DOE, was on the verge of bankruptcy—and went belly up a year later. Nevada Geothermal Energy also teetered on the brink after a $98.5 million loan guarantee; later it was acquired by Alternative Earth Resources, Inc., which was acquired in September 2016 by Black Sea Copper & Gold Corp.—whose stock fell from $0.30 to $0.16 per share by mid-March 2017.
Counting only solar companies around the world, Eric Wesoff, writing for GreenTechMedia.com in late 2015, listed 10 bankruptcies in 2009–10; 5 in 2011; a staggering 38 in 2012; 20 in 2013; 8 in 2014; and 5 in 2015.
But monotony is no excuse for apathy, and the pace of "Green energy" failures remains robust.
Latest cases in point: The Telegraph four days ago reported these examples from the United Kingdom:
Serious questions are raised today over hundreds of millions of pounds of British taxpayers' money being 'wasted' on climate change projects such as an Ethiopian wind farm and Kenyan solar power plant.

A Telegraph investigation shows little benefit so far from a £2 billion [$2.5 billion] foreign aid programme to tackle climate change that was established eight years ago.

One scheme, costing £260m [$322.4 million] of UK taxpayers' money, has produced only enough renewable electricity to power the equivalent of just 100 British households—about the size of a typical street.
Update March 16, 2017:
E&E News reported March 15:
A top rooftop solar installer went bankrupt this week, the latest episode in a year of wrenching changes for some of the industry's biggest players.

Sungevity Inc. declared insolvency Monday and did a chaotic layoff of more than half its workforce late last week. According to a former employee, a $200 million lifeline of funding fell apart after Donald Trump's election made investors skittish.

Solar adoption is climbing sharply, and business is booming for many installers. But some of the biggest firms, from SolarCity Corp. to Vivint Solar Inc. to NRG Home Solar, have had a turbulent year as they were acquired or abandoned by larger companies outside the solar space.

… Even more than its competitors, [Sungevity] sought to portray its business as a crusade against fossil fuels.

The company raised more than $850 million in financing during its decadelong run, but it was never able to turn a profit. As of January, the company had 700 employees, operating in 14 states and in four countries in Europe. …

Big-time shake-ups

The rooftop solar industry is made up of many small, local installers and a few larger companies that operation nationally or regionally and claim the largest market share. Three of the largest have recently had a wild ride. … SolarCity … was acquired last November by Tesla Inc., best known for its high-end electric cars. … [T]he No. 2 company, Vivint Solar, replaced its CEO in December after the global solar company that planned to acquire it, SunEdison Inc., went bankrupt in April.

The No. 6 company, NRG Home Solar, essentially killed off its solar business last month, a year after its parent company, NRG Energy Inc., scaled back its plans for renewable energy ….

[Sungevity] managed to get a $9.5 million bridge loan in late January, but it was unable to find a long-term suitor because of its money-losing habits. The company laid off 91 people in January and about 330 on March 9, and has a remaining workforce of 246 employees, according to a bankruptcy filing. …